Business Broker Office Forms
Documents-contracts to sell a business
$245.00 US
Shipping is $15 ground
or
$25 overnight
cash - check - money order - credit card
Merchant name of SEAWEAR will appear on your credit card statement or PayPal invoice.
ISBN 9645237-4-4
This is the most complete set of office documents I have yet to find. All the forms, contracts, disclosures, notices, leases, independent contractor agreemens... Everything needed to start your own business brokerage office or to add to your residential office. Just one of these forms from your attorney will cost as much as this complete set! Call your attorney and ask!
Attorney's and Accountants, these are all the forms and contracts your customers will ask for...
The package contains all the forms on a CD (Windows 95-XP) in easy to find, fill out and print format. You can use as is and merely fill in your office, names, dollar amounts and details or modify them to your custom office letterhead. Along with the CD are all the sample forms printed out and organized in a 9"x12" 3 ring (267 pages) binder in six categories: Buyer Side Documents, Closing Documents, Office Documents, Lease Documents, Miscellaneous Documents and the Seller Side Documents.
If you are thinking of buying or selling a business on your own, you will need a few of these agreements in order to pre-qualify your potential buyer or to show the seller you are a serious qualified buyer.
Who should use this program and is using it today? Accountants. Business Owners. Business Buyers. Business Brokers. Business Intermediaries. Business Advisors. Business Consultants.
Financial Advisors. Real Estate Professionals.
The documents have been tested in thousands of transactions and used by hundreds of business professionals in four continents. Investment cost of $249 may be earned back the first time you use the program. You don't have to have the best presentation in the world. Just better than your competition...
This package has been prepared by Theodore P. Burbank who has participated in the valuation and or sale of more than 2,000 companies from $100,000 to $32,000,000. Mr. Burbank is a nationally recognized authority of the subject of business sales and valuations. He is also a founding Director and Treasurer of the New England Business Brokers Association as well as a Charter Member and Fellow of the International Business Brokers Association. Mr. Burbank is one of 'those' that pioneered the way for the rest of 'us'!
Table of Contents
Buy Side documents
Acknowledgement and Release
Acquirer Profile
Additional Clauses
Agency Disclosure
Amendments - Addendums
Authorization to Close
Authorization to Obtain Credit Information
Bulk Sale Addendum to Offer to Purchase
Business Profile Matrix
Business Search -1
Business Search -2
Business Search -3
Business Search -4
Buyer Release
Conditional Purchase and Sale Agreement
Confidential Buyer Profile
Confidential Personal Financial Statement
Contingency Removal
Counter Offer
Due Diligence Check List
Letter of Intent - Long
Letter of Intent - Short
Mutual Non-Disclosure Agreement
Mutual Release
Non-Disclosure and Confidentiality Agreement
Receipt of Franchise Disclosure Documents
Report Acceptance - Buyer
Report Acceptance - Financing
Sell side documents
Additions to Listing Agreement
Authorization to Commence Marketing
Authorization to Disclose Information
Authorization to Sell
Business Profile
Business Profile - Long
Biz Valuation Agreement - 1
Biz Valuation Agreement - 2
Consulting Agreement
Corporate Resolution
Corporate Rider to Marketing Agreement
Corporate Rider
Equipment List
Fee Agreement
Financial Advisory Agreement
Financial Advisory Agreement - Long
Finders Fee Agreement
Franchise Marketing Agreement
List of Creditors
Listing Agreement
Listing Agreement - Real Estate
Listing Checklist
Marketing Agreement
Marketing Agreement - 2
Marketing Fee & Commission Agreement
Mutual Non-disclosure Agreement
Mutual Release
Release From Marketing
Agreement
Report Acceptance
Required Information
Secure Funding Agreement
Seller Release
Training Agreement
Closing documents
Additional Clauses
Agreement to Pay Accounts Payable
Assumption Agreement
Bill of Sale
Bulk Sale Agreement
Bulk Sale Note
Bulk Sale Notification
Bulk Sale Release
Bulk Sale Waiver
Closing Checklist
Closing Worksheet
Covenant Not to Compete
Direction to Pay
Guaranty
Inventory Completion Agreement
Note - Balloon
Note - Convertible
Note - Demand
Note - Secured by Real Property
Note - Unsecured
Note
Pledge Agreement
Power of Attorney
Purchase and Sale Agreement - Assets (Short)
Purchase and Sale Agreement - Stock
Purchase and Sale Agreement - Assets (Long)
Security Agreement
Office documents
Code of Ethics
Commission Guarantee
Co-operation and Fee Agreement
Employment Agreement
Independent Contractor Agreement
Non-Disclosure Between Firms
Office Policy Manual
Leases and Addendums
Assignment of Lease as Collateral Security
Authorization to Sub-Lease
Commercial Lease
Equipment Lease
Lease Assignment
Lease Extension
Lease Re-Cap
Letter of Intent to Transfer Lease
Long Lease
Medium Lease
Short Lease
Miscellaneous Documents
Advertising Fact Sheet
Direction to Pay
Escrow Agreement
Escrow Authorization
Fact Sheet
Handout
One Page Profile
Report Cover Page
Showing Record
Drop down menus make finding the right document easy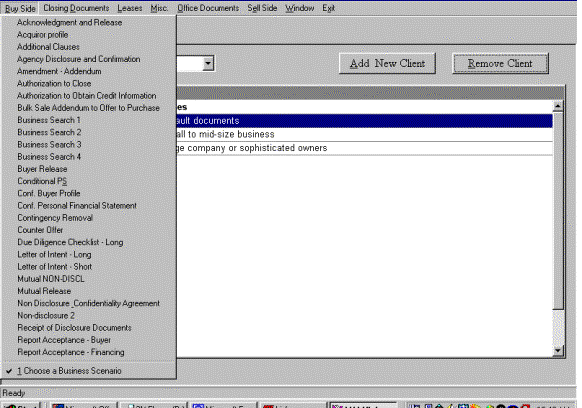 Fill in the blanks or cut and paste contingencies pertaining to your transaction.