Click here for local headlines and weather from around the state
If you are thinking of relocating your family and business here to Virginia, I hope you will find these bits of information useful. Should you have specific questions, please contact me and I will do my best to find answers for you. The business climate is very strong! cb
Virginia is located on the Eastern Seaboard of the U.S. It is the fourth largest of the South Atlantic States and thirty-sixth in size among the 50 states. The total area of Virginia is 40,767 square miles (105,586 square kms). It extends 440 miles east to west. (470 miles point to point) and 200 miles north to south. Total population approximately 6,791,345 (July 1, 1998). That reflects an increase of 53,856 or 0.8%, while neighboring DC, PA and WV saw declines.(AP) The state ranks 34th in the seniors housing market per the National Association of Homebuilders.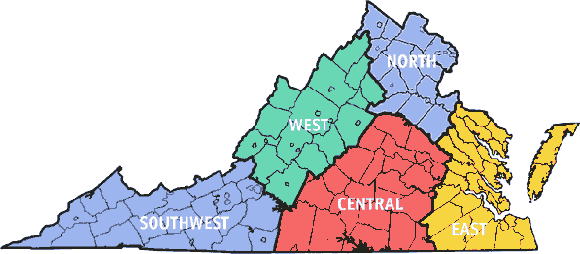 Living here and doing business is here, is about a way of life...
Climate
A mild to humid coastal climate is characteristic of Virginia. Record high temperature: 110 degrees F (43 C) at Columbia on July 5, 1954. Record low temperature: -29 degrees F (36 C) at Monterey on Feb. 10, 1899. Average July temperature: 75 degrees F (24 C). Average January temperature: 36 degrees F (2 C). Average yearly precipitation: 43 inches (109 cm).
Population
Virginia ranks as the 12th most populous state in the U.S. Virginia's population reached 6,187,358, in 1990, a 15% increase since 1980. According to projection, the population by 1995 reached 6,791,345. The population density is 156.3 per square mile (60 per square km). In 1990, 72.5% of all Virginians lived in metropolitan areas. Loudoun County ranks as the second fastest growing county in all of the United States.
Middle Peninsula 73,023
Hampton Roads MSA: 1,299,700
Virginia Peninsula 429,000
Some Virginia Business Advantages
Virginia has the most doctoral scientists and engineers in the Southeast.
Virginia Corporate Income Tax is 6%. It has remained stable since 1972 and has changed only once in the last 50 years.
Virginia also offers corporate income tax credits for job creation.
Virginia sales tax has remained stable since 1968.
Virginia ranks fourth in the country with the largest number of businesses listed in the Hispanic Business 500. Virginia is listed with 26 business doing approximately $636 million dollars yearly in revenue. Florida was ranked first, California second, Texas third and New Mexico fifth.

Virginia is one of the least unionized of the more industrial states. Three major reasons for this are the State's Right to Work Law: the importance of manufacturing industries such as textiles, apparel, electrical machinery and lumber which are not highly organized in Virginia; and the importance of federal civilian and military employment. Only four states had a smaller percentage of their nonagricultural work force unionized than Virginia.
Money Magazine rated three areas of Virginia, the top three places to live in the South. #1 was the Norfolk area; #2 was the Richmond area and #3 was the Charlottesville area. Norfolk to Richmond to Charlottesville are each an hour apart so all are pretty close. Anywhere within that area is great to live, work and play. All the components to make your business successful!

A few areas of interest:
The Bay is the largest and richest estuary in the country. Home to humpback and fin whales in the winter. And even some migrating manatees in the summer! Plenty of great fishing, boating, sailing and and the best seafood you can imagine!
Chesterfield is recognized for its prime mid-Atlantic location and a robust pro-business economy.
Gloucester - 30,131, quaint seafaring town with local retail shops, service, construction and manufacturing businesses, and plenty of marinas for the working and pleasure boating industry.
Hampton Roads - Money Magazine rated as the South's best large metropolitan area to live in.
Hanover's contemporary life is that of a vibrant rural and suburban locality. It has two interstate highways, I-95 and I-295, which are among the busiest in the eastern United States. The County has a population of approximately 80,000. Major industries in Hanover include Paramount's Kings Dominion Theme Park, with over 2,000,000 visitors per year.

Henrico County & Richmond - Henrico's 240,000 residents plus Richmond's 203,056. Home to seven (7) Fortune 500 Companies and fifteen (15) Fortune 1000 Companies! International Development Research Council, and Site Selection magazine have chosen The Greater Richmond Partnership as one of the nation's "Top 10 Development Groups" for the second consecutive year. Greater Richmond makes Fortune magazine's Top Ten list of Best Cities for Business. Richmond Best Place to Live in the South (Medium Sized City category) Money Magazine, 1998. Second Most Affordable Housing Market in the Nation by E&Y Kenneth Leventhal Real Estate Group, 1998. . #1 Mid sized City in the United States for Small Business, Entrepreneur Magazine, 1997.
James City County - Population - 43,176; Median Income - $48,034; Land Area - 144.1 square miles. Population increase has been 26.5% over the past eight years.
Norfolk - population of 238,000, Norfolk ranks as the second largest in population, 62nd in American cities with populations over 100,000. Norfolk remains the site of the world's greatest concentration of permanent naval installations. It's quickly becoming "The Pentagon By The Sea."

Reston - The Tysons, Reston, Dulles area is one of the nation's fastest growing high tech centers. TRW, Oracle, BTG just opened new buildings in Reston. (emailed from Reston resident)
Virginia Golf Course Guide
Suffolk County - 60,000 (estimate); state's largest city of 430 square miles, half the size of Rhode Island. And the region's population is projected to more than double over the next 20 years. A vital center for manufacturing and distribution.
Virginia Beach - most populous city, 2.5 million annual visitors drawn to the sun and sand. Any kind of business is good here! Service, hospitality, distribution or manufacturing. Plenty of labor, customers and tourists.

Williamsburg - Second largest tourist attraction in the Eastern United States. (Orlando's Disney rates #1.) Home of William & Mary College, second oldest (after Harvard) in the country. Great area for retail, hospitality and service businesses.
York County - Due to its affordable quality of life, York County has enjoyed a 38.5% population growth over the last eight years.. A lower cost of living and lower taxes amplify the median household income that is 34% above the national average. Money Magazine recently named York County one of the best 100 education buys in America based on public school system standardized test scores and median home prices. The 108-square-mile county is 27 miles long, 6 miles wide at its broadest point, and ranges in elevation from sea level to 124 feet above sea level. There are more than 200 miles of coastline along the York River and other creeks and estuaries.
Loudoun County is ranked by the US Census Bureau as the second fastest growing county in the United States with population of 100,000 and over; and third ranked in the United
States with population of 10,000 and over. Population increased 8.2% last year while up 67.1% over the last eight years!
Looking for Virginia jewelry gifts? Click here!
Virginia Top Tourist Attractions -
Colonial Williamsburg - 11.1 percent
Blue Ridge Parkway - 10.4 percent
Shenandoah National Park - 8.3 percent
Busch Gardens Williamsburg - 7.9 percent
Williamsburg Pottery - 7.3 percent
Arlington National Cemetery - 6.9 percent
Skyline Drive - 6.9 percent
Potomac Mills Outlet Mall - 5.3 percent
Mount Vernon - 4.5 percent
Monticello - 4.3 percent
September 19, 2000 Virginia Tourism Corp
I have found Virginia to be a thriving area for business. Do your homework and any area will welcome a new business owner or venture. The easiest and safest bet is to find a successful ongoing operation that is willing to sell and buy it! Many of the people have a stronger contract with their "word" than you could ever get with a piece of paper. I have found that the business people are polite, they actually listen to their customers and go out of their way in the service department.
Too many businesses (especially restaurants) that I looked at in other states had the attitude, "If you don't like it, don't come back. There is someone else waiting to fill that seat." The businesses in Virginia (especially restaurants) want your repeat business. There is real "good-will" established at most businesses here.
If you are contemplating a move to Virginia and anticipating purchasing or relocating a business here, you will not be disappointed. The business economics are great and the quality of lifestyle can't be beat.
Call me when you are ready to begin! cb